Apple unveiled the iPhone 7, which won't have a headphone port. The company also released AirPods, wireless ear buds that sync with the iPhone.
Well, that was quick.
Apple's new wireless AirPods aren't even on sale yet, but accessory makers are already trying to cash in on fears about losing the pricey headphones.
The possibility of losing the $159 wireless headphones was a hot topic after Apple (AAPL,Tech30) revealed the new design last week.
Some joked about patenting an "iString" to secure the AirPods in place, similar to straps attached to reading glasses or kids' mittens. A crowd funding campaign for "fashionable AirPod strap" has been launched on Indiegogo.
so when the wireless airpod falls out of your ears they aren't on the end of a string and will fall down and disappear

— John Podhoretz (@jpodhoretz) September 7, 2016
top selling airpod accessory: an around the neck string, tying two together so they don't share the same fate with your socks.

— Berk D. Demir (@bd) September 7, 2016
But for the phone accessories company Spiegen, the idea is not a joke. The company has already started selling a dedicated AirPods strap, a piece of wire that can attach to the wireless headphones.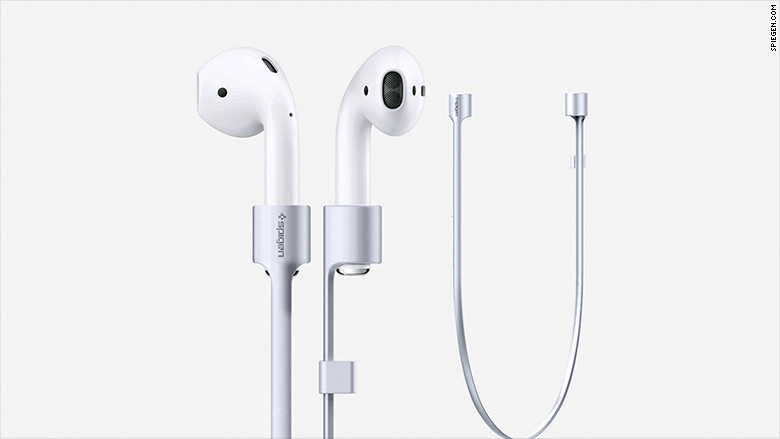 The company said a patent for the product is pending.
The strap is available on Spiegen's website and on Amazon for $9.99, with delivery slated for next month. (Or you can just buy this $1 set of 12 colorful glasses straps instead.)
This post was originally published on: cnn.
Top image: Gary Reyes/Bay Area News Group/TNS