Donald J. Trump, elected 45th President of the United States, has had to face abundant criticism from media, public and political rivals, for not releasing policies on many significant issues ranging from climate change and cybersecurity to business, trade and immigration.
Donald Trump Vs the Silicon Valley:
Meanwhile, in the Silicon Valley, most of the influential tech executives supported the democratic presidential candidate Hillary Clinton. Unlike her opponent, Hillary Clinton issued a detailed tech policy that valley's investors, tech executives and businesspersons broadly appreciated. On the other hand, Mr. Trump wants to tighten limits on immigration, his immigration policy worries the tech industry that gets most of its profit from overseas. Mr. Trump directly blames the elites for the problems of many middle-class American workers. This is something very troubling for Silicon Valley.
Trump targets Tech Giants:

Mr. Trump accused big tech companies of not working with the government in the interest of the country's safety and security. Trump has serious concerns about Amazon's CEO Jeff Bezos, who is also an owner of the Washington post.
In May, Trump told reporters that Jeff was using the newspaper to damage Trump's reputation because he feared what a President Trump would do to Amazon. "I will go after him for antitrust, because he has got a huge antitrust problem he's controlling so much, Amazon is controlling so much of what they are doing. He's using the Washington Post, which is peanuts, he's using that for political purposes to save Amazon in terms of taxes and in terms of antitrust." Trump said in an interview.
However, Jeff Bezos denied these allegations while speaking at Code Conference in June.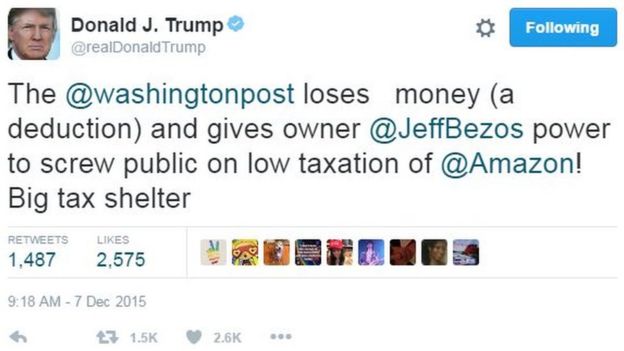 Trump has threatened Apple during his campaign. He has been a strong critic of Apple, called for a boycott of its products over the company's refusal to unlock its devices used by terrorists. "To think that Apple won't allow us to get into their cellphones? Who do they think they are?" Trump said in a TV interview. In January, he made another promise, "Get Apple to start building their damn computers and things in this country," rather than overseas. Following these remarks, Apple withdrawn its support of Republican National Convention, however, Mr. Cook maintained his support for Speaker Paul Ryan and other Republicans.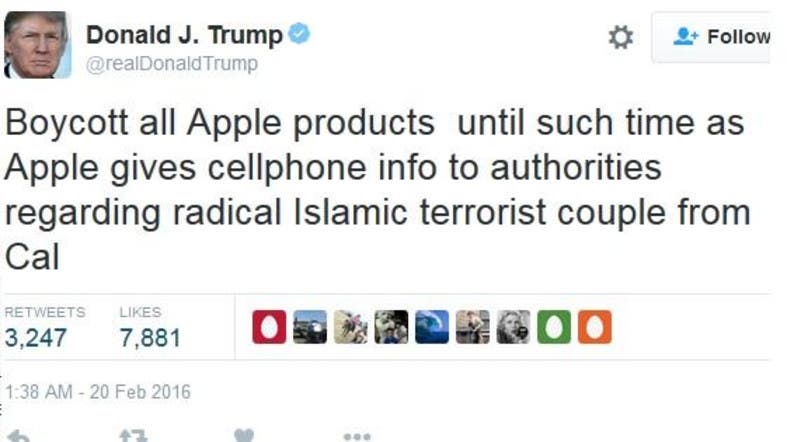 "We have a very diverse team of employees, including supporters of each of the candidates," Tim said in a statement following Trump's victory. "Our company is open to all, and we celebrate the diversity of our team here in the United States and around the world."
What's ahead for Silicon Valley?

Despite Trump's surprising win, investors in Silicon Valley are hopeful for the future. "In times of recession or depression, people become more entrepreneurial," one investor said. "In times of expansion, great businesses grow."
Silicon Valley relied heavily on overseas engineers and programmers to meet its growing labor demands. In 2013, influential industry leaders such as Facebook's Mark Zuckerberg and Yahoo's Marissa Mayer helped launch FWD.US, an organization that works for immigration reforms that would allow more foreigners to enter and work in the United States. Elected-president Trump has a tough stance against illegal immigration. During his campaign, he repeatedly pledged to enforce immigration laws.  The most important question is whether the immigration reforms under Trump administration will help the industry to grow, or close the doors to foreign workers.